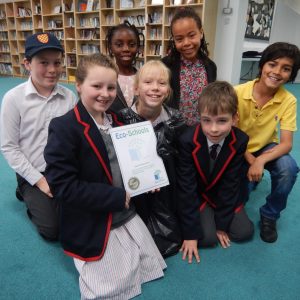 Pupils from Grace Dieu Manor School in Thringstone are delighted to have been awarded their first Eco School flag – the Bronze Award!
This internationally recognised award, for excellence in environmental action and learning, has been awarded to the newly formed Eco Committee, made up of pupils in Years 3-6, along with some teaching and non teaching staff, and some parents!
"The pupils have been incredibly committed to achieving this award," says Head of Outdoor Learning Claire Tatton.   "They have undertaken an environmental review, as well as compiling an 'Eco Code' and an action plan which they have then shared with the rest of the School."
The Eco Committee are, quite rightly, proud to have been awarded a certificate that recognises their achievements in working toward a sustainable lifestyle.
"We are delighted that the pupils' hard work has been recognised, especially given our strong reputation for outdoor learning," continues Claire.  "It's certainly very fitting for Grace Dieu, with our 120 acres and all of our outdoor learning activities, to have this Bronze Award. Our next challenge is the Silver Award!"