Pupils in all year groups at Grace Dieu have been enjoying their first Outdoor Learning sessions of the term. The last two weeks has seen them take part in a range of activities: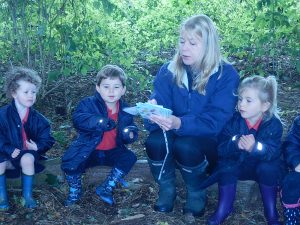 Cygnets have been exploring their own forest area.  They were given some picture cards with numbers and items that they had to find in the forest. They certainly enjoyed plenty of exploring and counting!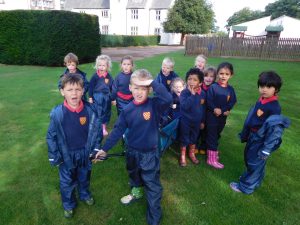 Swans went to the great big Grace Dieu Forest for their first Outdoor Learning session – it is much bigger than the Cygnets' Forest they are used to! They very much enjoyed playing games to explore the forest in a fun and safe way -including "1,2,3 where are you?" our popular Forest School version of hide-and-seek! Their next session saw them playing 'sticky pallets', where each child was given a sticky pallet (a piece of card with sticky tape strips) and asked to fill it in with items from the forest. Acorns were a firm favourite as they are plentiful on the forest floor after storm Eileen!
Year 1: took part in a woodlands quiz, then they explored the importance of staying within the boundaries of the forest. This week they explored the concept of boundaries even further – we decided to make markings on the trees, using clay and natural materials, to tell everybody that this is our forest!
Year 2 have been investigating the forest – this week they looked at the damage done to our beloved trees after storm Eileen. We found out that many acorns had been blown off the veteran oak tree. We discussed what use could be made of all the acorns, and decided to emulate squirrels! We hid a handful of acorns, then went for an adventure around the grounds (we checked on our fairy world in the rhododendrons). When we came back to see if we could find them (like Squirrels do), guess who could not remember where her acorns were… (answer: Madame Tatton!)
Years 3 and 4 began the term by building dens! Some used natural materials such as logs, long sticks and leaves; others opted for ropes and tarps. One group built upon a shelter started earlier in the year and was able to complete the task to an amazing standard; most groups started from scratch and it is now a work in progress! They then took their den building to the next level – building a pyramid in the forest (to tie in with their Creative Curriculum Egyptian topic).  They certainly threw themselves into the challenge – with some children writing hieroglyphs on their pyramid!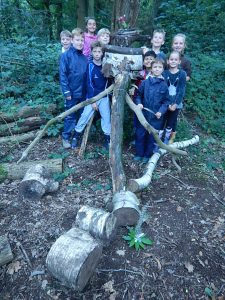 Year 5 were set an interesting challenge – to rescue an alien that was stranded up a tree! They had to use team work, problem solving and imagination in order to think of ways to allow the shy alien to make its way down safely. There were a variety of different approaches used across the two classes including making a tiny parachute and a landing pillow out of leaves and feathers, building a staircase using a Y-shaped stick and logs of various sizes, and making a long zip wire, with a rock shelter at the bottom! Overall there was some amazing teamwork and impressive engineering. This week they then made the alien a friendship bracelet – using knotting and tying skills.
Year 6 have been exploring the forest freely – tasked with the challenge of bringing something back that caught their eye and explain to the rest of the group. They also took part in a rather wet Bug Hunt – discovering species and habitats they hide in.