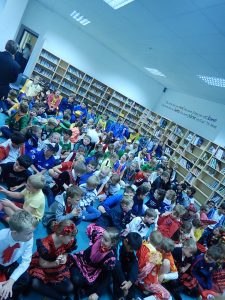 On Friday Grace Dieu celebrated its 10th European Day of Languages – with all pupils and staff, from Nursery to Year 6, joining in the fun!
Each year group chose to represent a different country from one of the 47 countries in the Council of Europe (the body that created European Day of Languages), and were challenged to dress up to win the much-coveted title of 'best dressed up'!
Countries represented were: France, Italy, Spain, Scotland, England, Ireland and Sweden. The Nursery joined in too, representing Hungary, the home nation of one of our Nursery Nurses. It was a great opportunity for Andrea to share some of her culture with the children – including songs, food and games!
Given that the focus of the day is to celebrate language diversity and to promote language learning – many of the activities were designed to encourage the children to speak different languages.  Pupils certainly enjoyed taking part in a European quiz which earned them cake decorating items to adorn the cake and icing they were given for 'The Great European Bake Off'.  Our chef Colin Dawson was the judge and chose class 5M (Ireland) as Star Decorators, followed by 1B (Italy) in second place, and joint third place was awarded to 6AT (Sweden) and 4EM (England).
Overall, the costumes worn by pupils and staff were amazing – but it was Year 2, representing Spain, who won the dressing up competition. Individuals who won the top three prizes for 'best dressed' were Ella for dressing in an Abba style (Sweden); Layla as a pint of Guinness (Ireland); and Niamh for her depiction of an Italian Artist!
"Days like today are a wonderful way of encouraging an interest in different languages and cultures from an early age," says Headmistress Margaret Kewell.  "This has always been an integral part of life at Grace Dieu, given how long we have been taking part in the European Day of Languages, as well as the fact that all of our pupils learn French from Nursery onwards."
Never one to miss out on the opportunity to learn outdoors, Year 1 brought Italy to the Forest with great enthusiasm on the European Day of Languages. The children brought their imagination alive – building a floating trattoria, as well as 'making' pizza and ice creams – all from natural ingredients in the forest in course!