What others say - Nursery inspection reports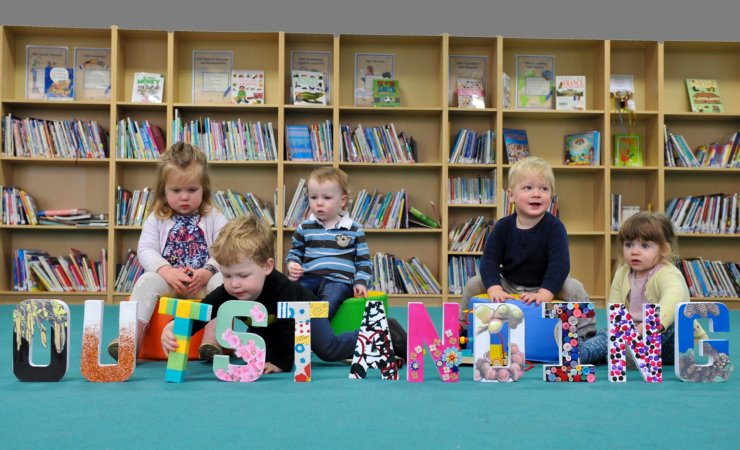 Officially Outstanding
Grace Dieu Nursery has received 'Outstanding' inspections from both the ISI in November 2017, just one year after it opened, as well as most recently from Ofsted in February 2019!
Our most recent Ofsted report in Feb 2019 also awarded Grace Dieu Nursery 'Outstanding' in every category.  Click here to read the full report.  Some key highlights include:
Learning outdoors is given extremely high priority for children of all ages. They enjoy daily access to the surrounding forest and garden areas where specially trained staff teach them a wide range of skills. As a result, children have extremely high levels of well-being and are confident, self-assured and happy.
Inside the nursery, children's rooms are bright, welcoming and full of natural light. Staff work very hard to ensure that the environment is welcoming to children. The rooms are exceptionally well resourced with a wide range of natural and real life objects for children to explore and investigate. Children settle in quickly each day.
Staff have a superb understanding of their responsibility to keep children safe. They are vigilant and supervise children extremely carefully at all times.
Children have many wonderful opportunities while they are at nursery. They benefit from regular access to the wider range of facilities within the host school, such as the swimming pool and gymnasium. Children also help to feed the nursery chickens. All of these experiences help to give children a wonderfully rich and varied learning experience.
Children's healthy lifestyles are promoted extraordinarily well. Consequently, children have an excellent understanding about what makes them healthy. Children behave exceptionally well. They benefit from clear guidelines from sensitive and caring staff.
Staff have genuinely warm and secure relationships with children.
Following their time at nursery, children are exceptionally well prepared for school and future learning. Children develop extremely high levels of resilience while they are at nursery.  Babies show high levels of self-confidence and self-assurance.
The quality and standards of Grace Dieu's Early Years provision was rated as "Outstanding" in every category in the Inspection, undertaken by the Independent Schools Inspectorate (ISI).
The Early Years at Grace Dieu was rated 'Outstanding' in the 'quality of teaching, learning and assessment', 'effectiveness of leadership and management', 'personal development, behaviour and welfare', as well as 'outcomes for children'. To read the report in full, please click here.  Here are just some key highlights:
"Children under the age of two make rapid progress from their starting points; the majority meeting and often exceeding the level of development that is typical for their age."
"Children's personal and emotional needs are supported extremely well. Babies and toddlers separate quickly and happily from their parents and settle easily with their key person. Each child benefits from high-quality individual time with adults who ensure that they are safe, happy and secure."
"Ambitious leaders and managers demonstrate a strong desire to provide high-quality provision and care for children, and have a clear vision for the future development of the setting. Through their comprehensive self-evaluation and plans for future development, they continually strive to improve the provision for care and learning to ensure that children receive an excellent start to their education."
"Offers a stimulating breadth of experiences."
"Strong procedures for health and safety, fire safety and safeguarding are fully adhered to across the setting. A generous number of staff are trained in paediatric first aid, and the recording of accidents and administration of medicines is meticulous."
"Equality and diversity are promoted effectively by instilling respect for others and by celebrating children's differences through their daily activities and routines."
"Poor behavior is managed effectively, and staff act as excellent role models of the high standards of behavior expected, helping even the youngest children to learn to respect each other."
"All children including those with additional needs, as well as the more able make good and often rapid progress in relation to their ability. Staff have a notably strong knowledge of individual children and devise enjoyable, interesting and age-appropriate activities that enthuse and challenge all children and meet their individual needs and interests.
"Highly effective assessment and record keeping map individual children's progress against age-related expectations, alert staff to any emerging needs and ensure readiness for their next stage in learning."
"Praise and encouragement are used continually and effectively to help children understand when they are doing well and how to develop."
"Parents have good opportunities to learn about their children's progress through informal conversations and more formal meetings."
"A wide range of learning opportunities is facilitated through an effective balance of child-initiated and adult-led activities. Children are inquisitive and eager learners, well prepared for their next stage of learning."
"Highly positive attitudes to learning and a consistent culture of praise and encouragement foster the development of children's independence and sense of curiosity."
"Achievement is valued and celebrated, and children are praised when they have a go or succeed by 'wow' moments, thus raising their confidence. They smile and clap their hands in celebration of their own achievements. Children demonstrate great security in their surroundings, using their increasing confidence and sense of security to access activities."
"Children explore the excellent range of learning opportunities, provided both indoors and outside, independently and confidently."
"Children have extremely well-developed social skills for their age and demonstrate that they feel emotionally secure within the setting."
"The strong key person system ensures warm relationships and close bonds with children and their families."
"Important skills for life are introduced to the youngest children, such as learning about safety and healthy lifestyles."
"Nutritious food at lunchtime and tea time ensures that children have a balanced and healthy diet. Regular time is spent outdoors, on walks through the school grounds or in the garden, ensuring that children have fresh air and exercise in a safe environment."
"Babies explore their environment with determination and excitement."
"Toddlers are inquisitive and happy as they self-select their activities."
Both reports are available to read here:
ISI Compliance and EYFS Report 2017