A history of Grace Dieu Manor House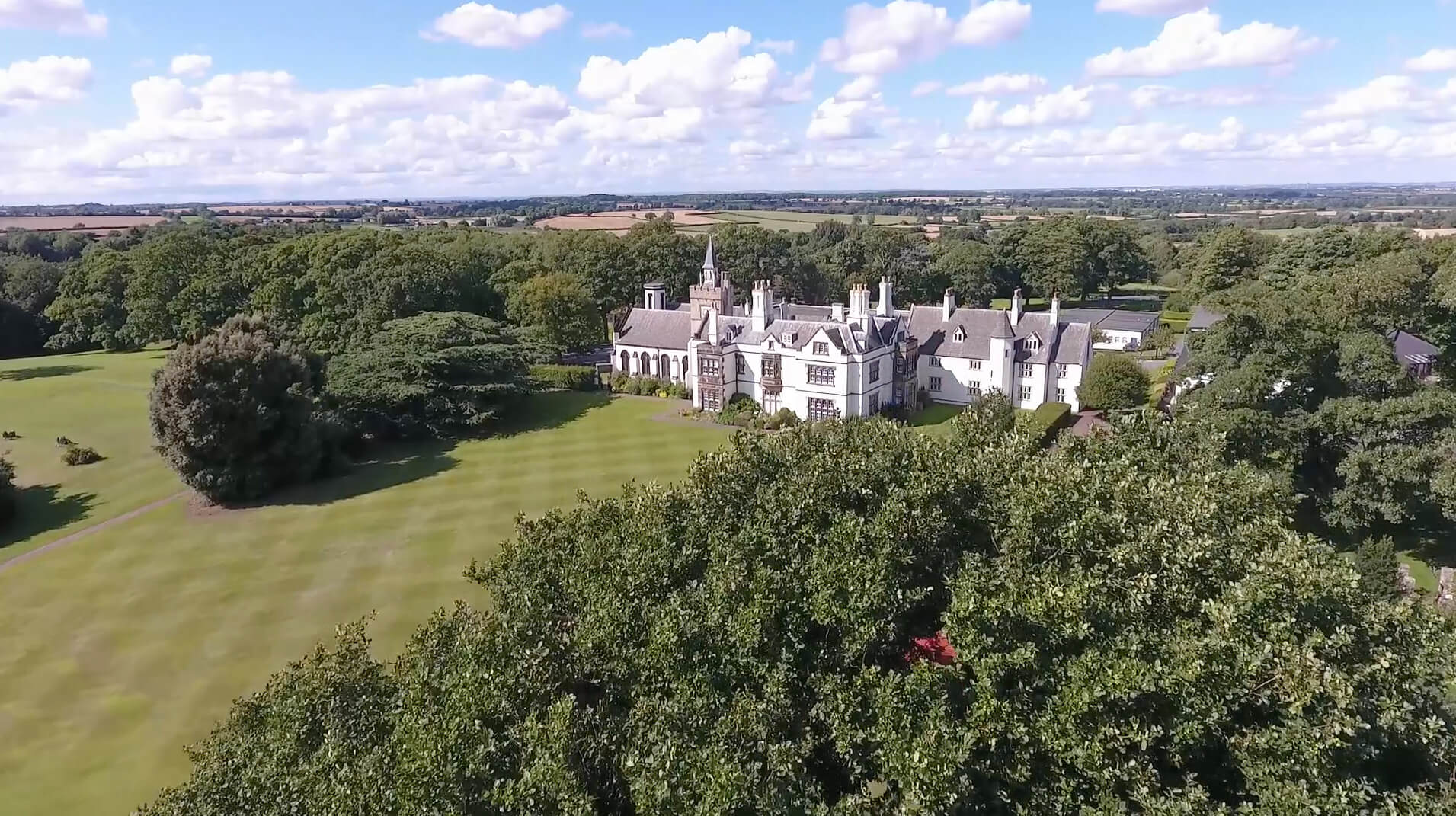 On 25 July 1833, Ambrose Lisle March Phillipps de Lisle married Laura Mary Clifford in the Church of St James, Spanish Place, London. On his marriage Ambrose had received a settlement of £1200 per annum and the Manor of Grace Dieu made to him by his father Charles March Phillipps of Garendon Park.
Grace Dieu received its name from the Priory founded by Roesia de Verdun, c. 1240, and dedicated to Our Lady, 'de Gratia Dei', or in the Norman French of the period, Grace Dieu, and it is still so called to the present day. The Priory was dissolved in 1538 by Henry VIII, and the picturesque remains near the school are greatly admired even today.
During the years 1833 to 1834 Ambrose de Lisle built a splendid manor house at Grace Dieu; it was designed by William Railton in the Tudor-Gothic style. A small chapel was attached. But in 1837 Augustus Welby Pugin visited Grace Dieu; he was very impressed by what he saw, and greatly enlarged the house and chapel. Later, Sir Banister Fletcher, whose grand stair-case still stands, also enlarged the house.
Grace Dieu Manor faces south and east. The windows are Perpendicular style, mullioned and transomed with arched lights.  Acres of lawns, gardens, trees – the cedars of Lebanon were famous – surrounded the manor house which had a fine view of the rocks and wooded slopes of Charnwood Forest.
Life at Grace Dieu in the 1840's was gracious, civilized and cultured. A constant stream of visitors came and were received with a welcome, hospitality and urbanity not excelled by any other great house in Leicestershire. Among the distinguished visitors were Dr (later Cardinal) Newman, Beresford Hope, Dr Ignaz von Döllinger, the Comte de Montalembert, Cardinal Manning, Lord and Lady Fielding and, above all, John, Sixteenth Earl of Shrewsbury, a very dear friend of the de Lisles and the wealthiest patron of Catholicism in England at that time.
Ambrose and Laura had sixteen children, nine sons and seven daughters. Unlike most Victorian families, the de Lisle children had great freedom and were encouraged to invite the guests of their parents to share in their games. Laura de Lisle ran a little school for the children of the tenants, and when Dr Luigi Gentili was chaplain, he encouraged her to take a deep and lively interest in the spiritual and temporal welfare of all the tenants of the Grace Dieu estate.
For thirty years Ambrose de Lisle and his family lived here at Grace Dieu. It was at Grace Dieu that the "Second Spring of Catholic re-emergence", as Cardinal Newman called it, had such a wonderful flowering…. "there is a glorious work going on" as de Lisle wrote to Lord Shrewsbury.
In short, Grace Dieu was a great centre of religious, intellectual and spiritual life – quite unique in the East Midlands.
"Communities are lost and empires die. And things of holy use unhallowed lie, They perish – but the intellect may raise From airy words alone a pile that ne'er decays." ('Ode to Grace Dieu', Wordsworth)