The Grace Dieu Chapel
The chapel stands at the heart of Grace Dieu, spiritually as well as visually.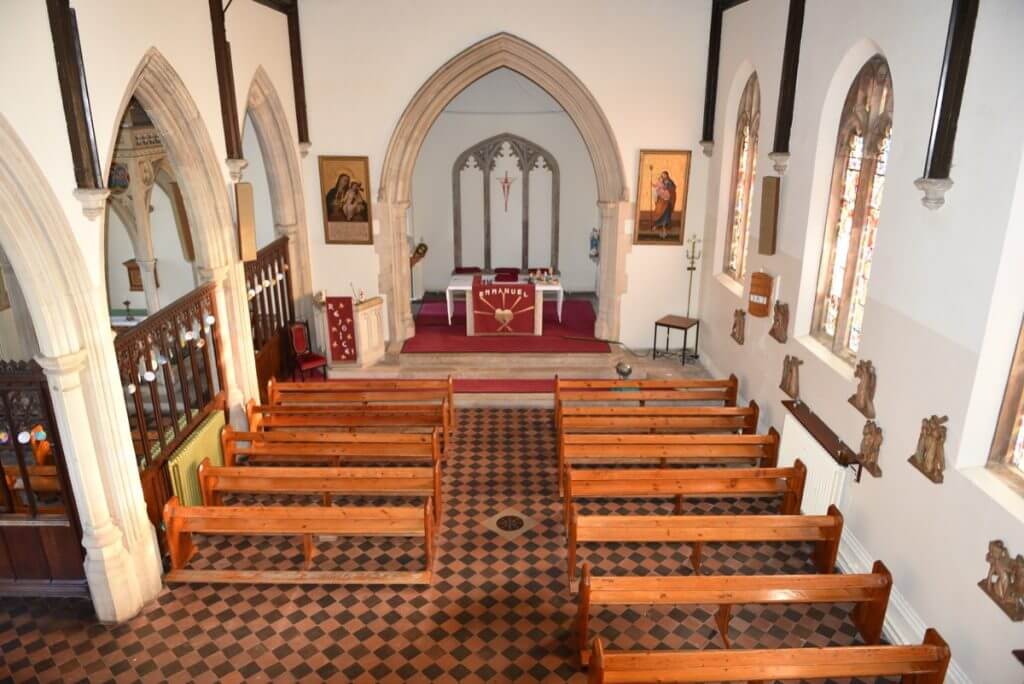 Designed by Railton it had a Rood-screen, the first to be erected in England since the general destruction of Roods ordered by Elizabeth I. It was the brain-child of Father John Lythgoe, S.J. When Pugin saw it, he fell into de Lisle's arms:  it was "so wonderfully to his taste." Pugin greatly enlarged the chapel and adorned it with some of his finest work:  it was often called "Pugin's gem."
Lord Shrewsbury gave the figure of Christ Crucified for the Rood: this Christ was treasured as the Rood of Sion Abbey founded by King Henry V in 1415. Pugin made statues of the Blessed Virgin and St John, and added a full complement of Gothic Revival furnishings. There is, of course, no east window; the chapel is oriented according to the universal and honoured traditions of Catholic antiquity. There were flanking side altars of St Joseph and St Philomena, the first altars to be dedicated to these saints in England. The three altars were richly decorated: painted and gilded and outstandingly beautiful. There are four windows on the south side, two lights in each window, and erected in memory of John, XVI Earl of Shrewsbury.
The west window has three lights and was erected in memory of the wife of de Lisle's eldest son Charles who had died tragically in 1871. Legend has it that her ghost still haunts the manor house!
In the sanctuary there is a fine brass over the vault of Reginald de Lisle, the young son of Ambrose and Laura who died at the early age of five years and eight months. Once over the High Altar, and now on the north wall, is the beautiful Byzantine style icon of Our Lady, 'Mater Divinae Gratiae', given to de Lisle by his friend and admirer, Cardinal Placido Zurla.
On the north side of the chapel Pugin built and designed the Chapel of the Blessed Sacrament, dedicated to St Elizabeth of Hungary. The altar stands under a graceful baldachino or ciborium designed by Pugin who always considered it his best effort. The ciborium stands upon four decorated, pointed arches which are supported by four graceful columns richly clustered. The north windows are very beautiful, traceried, three light windows and filled with some of Hardman's best glass.
A large crypt runs the length of the nave. It has a stone altar dedicated to St Edward the Confessor. In it three of de Lisle's sons, one daughter, his daughter-in-law Fanny, and two grand-children were buried.
When Father Ambrose St John, Newman's dearest friend, visited Grace Dieu in 1874, he wrote to Laura de Lisle: "I almost wish I had not seen Gracedieu chapel… so exquisitely beautiful it was, breathing an atmosphere of prayer and peace."
The liturgical re-ordering of churches which took place in the 1960's did not leave Grace Dieu Chapel unscathed. Indeed, even earlier, the sanctuary had been truncated: the Rood-screen, the lateral altars, the stalls, the beautiful painted altar, the pulpit, and the font have all gone. Nevertheless, the chapel at Grace Dieu still remains a beautiful and prayerful place with an atmosphere all of its own: "Terribilis est locus iste: hic domus Dei est, et porta caeli: et vocabitur aula Dei." (Gen. 28, 17)