What better way to celebrate All that is amazing about Grace Dieu than to have a series of six videos that encapsulate All that we offer our families?!
Having initially launched the videos on Facebook, parents can now watch all six videos here on our website.
·      Our first video shows how Grace Dieu offers 'All the right foundations' – for children to thrive.
·      Whilst we may be tucked away down a long drive, our second video shows that we really are 'All on your doorstep' as we are very convenient to access for a stress free school run!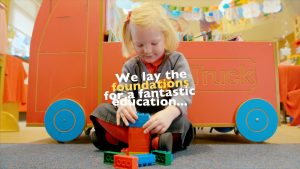 ·      Importantly, our third video showcases our 'All encompassing' ethos, which is as important to Grace Dieu as the fact that we are 'All successful'  (our fourth video) in being an Outstanding Nursery and Leicestershire's leading Prep School.
·      Our fifth video is vital in explaining our 'All inclusive' approach to welcoming families of all faiths, and to busy working families who are looking for wraparound care and a clear and inclusive approach to fees.
·      Finally, we left the best to last – as our sixth video shows what makes Grace Dieu unique – its setting!  There is certainly  'All the space' for our children to use and enjoy, with an impressive 120 acres of parkland and our extensive on-site facilities!
"When parents visit Grace Dieu they keep telling us that we are a 'hidden gem' or that they 'wish they had known about us earlier'!" says Headmistress Margaret Kewell. "Enough was enough!  I want to put Grace Dieu firmly on the map – so everyone can see for themselves All that we offer to families of children aged from 12 weeks to 11 years! I do hope these videos go some way to doing exactly that – and I hope you all enjoy watching them as much as we enjoyed filming them! Many thanks to the team at Affixxius – who are one of the UK's leading video agencies (co-founded by a former Grace Dieu pupil!) – and who have truly brought  #AllGraceDieu to life!"