Our hard-working Grace Dieu Parents' Association are busy planning their next academic year's activities – following a hugely successful 2018-19 year!
Highlights of the last year include:
an inaugural Outdoor Cinema event where hundreds of families flocked to Grace Dieu to watch 'The Greatest Showman' on a big screen in our wonderful grounds.
another successful Christmas Fayre which saw families and members of the local community begin their festivities and kick start their Christmas shopping at Grace Dieu.
an exciting Race Night, as well as the children's annual disco!
"The GDPA are exceptional in their ongoing support of the School," says Headmistress Margaret Kewell.  "They raise an amazing amount of money for Grace Dieu and the funds they raise make a real difference to our facilities."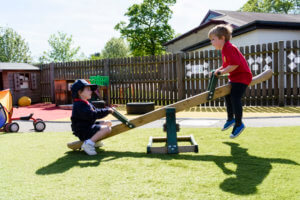 Indeed, over the last year the GDPA have raised an astonishing amount of money towards 'Project Playground' which has vastly improved both the Pre-Prep and the Junior Prep playground areas.
"Our pupils love their new playground areas and benefit from them each and every day," concludes Mrs Kewell.  "So all of the pupils, along with staff, are incredibly thankful to the GDPA and are looking forward to the activities and events they have planned for this year."
This year's GDPA calendar of events 'kicks off' with a fantastic 'Family Fun day' on Saturday 14th September in the Grace Dieu grounds. There will be an array of activities for the children to enjoy – including bouncy castles and other children's entertainment.  There will also be a BBQ and a bar.  So save the date in your diaries and we look forward to another great GDPA event!