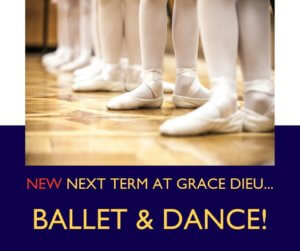 From September Grace Dieu is offering a new club – a Ballet & Dance club for those children in Swans (Reception) to Year 1.
"Ballet is a wonderful activity – for many reasons," says Headmistress Margaret Kewell.  "As well as being a great additional physical activity for us to offer our pupils alongside all of our other sports, it is renowned for developing coordination and posture.  It is also known to boost confidence, as well as enhance focus and help to foster a great work ethic – all great skills for children to hone."
Mrs Kathryn Cockeram, one of our KS2 Teaching Assistants will be running the club at Grace Dieu Manor School.  Kathryn, who holds a degree in Contemporary Art (Dance and Drama), is a professional dance teacher, and has been teaching at a local academy for many years, as well as directing dance shows and preparing pupils for examinations.  She has been dancing since the age of three years old and has studied ballet, tap, modern dance and acrobatics – so she has an amazing skill set to bring to Grace Dieu's new Dance Club!
Girls and boys will be able to learn the basic moves and positions of Ballet through fun choreography.  Kathryn will be using music and props to create dances, and she plans to stage a short performance to parents when the children are ready!
"Whilst we'll be starting with Ballet, my hope is that in the coming terms and years ahead we can begin to offer different sessions in different genres of dance for a wider age range of children – such as street dance – which is often a favourite! I'd also, in the future, like to try to offer dance styles that fit in with the subjects children are studying – from the countries they are learning about – to bring their learning to life even further," says Mrs Cockeram.
The club will run on Tuesdays from 3:30pm – 4pm and we are very much looking forward to seeing the children enjoy the first sessions!  As with the majority of our after school clubs and activities, this new Ballet & Dance club is included in our School Fees. The children taking part in the club will not require any uniform, however some soft shoes or ballet shoes would be preferable, if possible.  Parents will be able to book their child's place at the beginning of term when the full activity list is sent out.