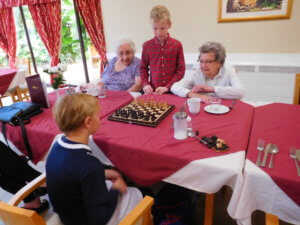 Pupils from Grace Dieu Manor School in Thringstone visited Ashby Care Home as part of their 'MAD' activities.  The children, who are all part of the School's wonderfully named MAD (Make a Difference) Club, thoroughly enjoyed their visit – and so too did the residents.
"The MAD Club is based on encouraging the values we hold dear as a School," says Headmistress Margaret Kewell.  "It's a club which encourages our pupils to be kind and compassionate; a club which encourages them to look beyond themselves and to think about those who have different lives than their own.  These attributes are not new to Grace Dieu – they are already woven into our DNA – but they are such important attributes that we want our pupils to develop them further; and our MAD Club is a fantastic way of doing just that."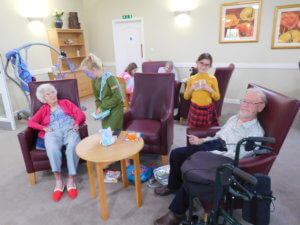 The pupils and residents played games together, with one resident having her love of chess reignited and now she cannot wait to play again! The pupils and residents are now looking forward to a return visit in December – when they will sing Christmas Carols together.
The MAD Club have also been making beautiful postcards that they are posting out to Westwood House Residential Home.  They hope their 'Postcards of Kindness' will brighten the day for other elderly care home residents whom they have not yet been able to visit.
"We are incredibly proud of the children," concludes Mrs Kewell. "Of course it's important to develop academic excellence, but it's equally important to develop a rounded child – which is exactly what we do at Grace Dieu."