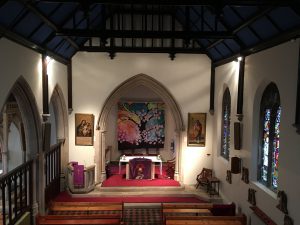 Grace Dieu is celebrating after receiving a 'Good' Diocesan Canonical Inspection Report.
"I am delighted that Grace Dieu has been rated, overall, a 'Good' Catholic school in this inspection," says Headmistress, Margaret Kewell. "It certainly has been a busy year for inspections for the School – having already passed our Compliance inspection and been awarded an Outstanding in our Early Years provision!"
The inspection, which was conducted by the Nottingham Roman Catholic Diocesan Education Service at the end of February, assessed the Catholic life of the School, Collective Worship and Religious Education. It was the first inspection of this type that Grace Dieu has experienced, as this is a new inspection for the Catholic independent sector.
Mrs Kewell continues, "I am particularly delighted that the inspectors praised our 'strong sense of community' and the fact that 'pupils actively support one another and benefit from a warm, family environment'. We are known, loved and chosen by parents for our strong family atmosphere. This creates a culture of confidence – as pupils who feel safe and supported will grow and develop in confidence and capability, both inside and outside of the classroom."
"The Governors are all particularly delighted that the inspection report also highlighted and praised Mrs Kewell's leadership," adds Richard Gamble, Chair of Governors. "It states that 'the headteacher's leadership is an inspiration to the staff and pupils' – which is particularly impressive given Mrs Kewell has only been in post since September."
Whilst the full inspection can be read here, key highlights include:
"The school provides high levels of pastoral care to pupils with extensive facilities for the physical wellbeing of pupils including a resident school nurse. The chaplain is fully committed to the pastoral needs of the whole community, including the parents."
"The behaviour of pupils is good. They show consideration towards others and older pupils are keen to support younger children."
"Pupils speak enthusiastically about their involvement in charitable campaigns"
"The school's rich history and abundance of high quality religious artifacts are respected and treasured by the whole school community."
"The learning environment both in classrooms and in the wider school building reflects the school's mission and identity. High quality resources are displayed in a creative way in order to inspire pupils. "
"Parents hold a very positive view of the Catholic character of the school. They feel that all are welcomed into the school community and are invited to share in all aspects of school life. They feel that the school 'couldn't do this better'. They value the high level of care afforded to pupils and feel that the school acts 'as one big family'."

"Parents and visitors are welcomed to the school to share in its liturgical life. Parents feel included and speak positively about the impact of the school chaplain whom one described as being, 'Just the best'."
Mrs Kewell concludes, "We will, following the inspection, look to further improve the quality of teaching and learning in Religious Education and to develop our teaching, assessment and monitoring in order to raise standards further. We look forward to demonstrating this in our next inspection."