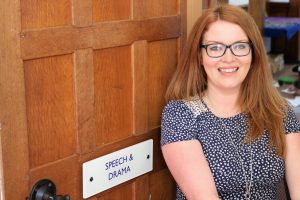 Starting in September, Grace Dieu is welcoming a new Speech & Drama teacher – Felicity Curtis.
Felicity brings with her a wealth of educational experience that she will be passing on to pupils across all the years at Grace Dieu.  She also has a string of professional acting credits to her name, having played a variety of roles from Ophelia in Hamlet, to Beverley in Abigail's Party.  She has performed in the West End, and worked professionally in both Theatre and Film.
"We are incredibly lucky that Felicity is joining Grace Dieu," says Headmistress Margaret Kewell.  "Our pupils will really benefit from her extensive experience and knowledge – it is an incredibly exciting time for the School. We have always placed great importance on the development of the whole child – nurturing their creativity is a vital part of the all-encompassing education we offer. I am confident that Felicity will take Speech and Drama onto the next level and I am very much looking forward to her joining our School community in September."
Felicity holds a degree in Performance and Live Art, from Nottingham Trent University, as well as an MA in Acting from the Mountview Academy of Theatre Arts & University of East Anglia, London.  She has extensive LAMDA experience, having been a LAMDA Examiner for a number of years, as well as having previously taught the LAMDA syllabus at Magdalen College School, Oxford, and also at St Edwards School, Oxford.  Her record is impeccable, with all of her pupils having achieved Merits and Distinctions under her tutelage.  She has also taught Drama at Headington School, Oxford, been a Drama Facilitator for the YMCA, a Workshop Facilitator for the Creation Theatre Company and a Performing Arts Lecturer at New College Nottingham.
Felicity will bring all of this experience to Grace Dieu as she prepares our pupils for their forthcoming LAMDA examinations and hopefully encourages even more pupils to take an interest in this area of the curriculum.  If you are interested in your child taking lessons with Felicity please contact the School and we will be able to provide you with all the necessary details.
"I am thrilled to become part of the thriving School community at Grace Dieu," says Felicity.  "I am looking forward to be able to offer pupils a wide range of creative opportunities and to be able to impart my knowledge to the School's next generation of actors and public speakers. Most importantly, I will be using my knowledge and understanding of the subject to imbue passion and to inspire a real love of Drama and Theatre Arts amongst the pupils at Grace Dieu."