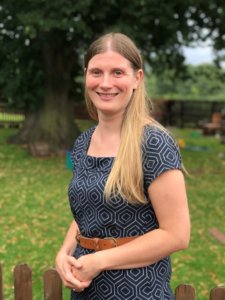 We are delighted to welcome our new Nursery Manager, Andrea Elliott, who joins Grace Dieu Nursery with some 20 years' experience in a variety of nurseries across the region.
Andrea takes over from Jenny Page-Faulkner who, after nearly three years at the helm, has moved to pursue a new challenge.
She brings with her an impressive 15 years of nursery management experience.  Alongside her many years' experience, Andrea also holds a BTEC National Diploma in Early Years.
"Andrea has led a nursery to achieve the all-important 'Outstanding' rating from OFSTED, so I am absolutely assured that Grace Dieu Nursery will continue to maintain its incredibly high standards, along with both its OFSTED and ISI 'Outstanding' ratings, under her tenure," says Headmistress Margaret Kewell.  "Indeed, we are all really looking forward to Grace Dieu Nursery thriving even further under Andrea's management – as she plans to integrate new ideas and best practice from her years of experience into our already outstanding nursery provision."
"Andrea's Early Years' philosophy is very much aligned to our philosophy at Grace Dieu Nursery and School – where the child is at the centre of all that we do and that children learn and explore at their own pace to thrive both socially and developmentally," continues Mrs Kewell.  "She has been trained and is an advocate of the 'Curiosity Method Approach' and she is looking forward to integrating these new ideas and practices for our Nursery children to enjoy and benefit from.  She is also a strong advocate of natural resources and looks forward to developing this even further given Grace Dieu's wonderful surroundings and reputation for Forest School."
All families, current, Registered or those interested in their children joining Grace Dieu Nursery, are warmly invited to meet with Andrea – please do just get in touch and we will happily arrange this for you.