This term saw the introduction of a new club at Grace Dieu – the MAD Club (thank you Mrs Burley) – no, not a club where everyone just goes mad but a club based on encouraging the values we hold dear at our School; a club which encourages our pupils to be kind, thoughtful, compassionate and giving; a club which encourages them to look beyond themselves and to think about those who have different lives to their own. These attributes are not new to Grace Dieu but they are attributes we wish to develop further in our youngsters, attributes which we hope they will demonstrate in their response to all people.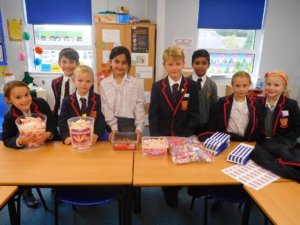 Here at Grace Dieu we firmly believe in a community inspired approach to learning and spiritual development where all people are valued and all are allowed to develop their potential, indeed it is the very essence of our Mission Statement. We believe that all pupils should respect themselves and others. Pupils should be Citizens not just of their school and local communities, but national and global Citizens. Our young people should be aware of the nature of being a Citizen of the United Kingdom and actively seek to make the world a better place through Active Citizenship.
MAD is all about making a difference.…
And in the process, by volunteering to help others, our pupils will:
experience working with other people, allowing them to build on their team working abilities;
be faced with problems, obstacles and challenges at some stage – allowing them to develop their practical skills as well as their problem-solving and creative thinking skills;
give them plenty of opportunities to fine tune their communication skills;
have the opportunity to meet lots of new people so boosting their interpersonal skills;
But that's not all – working with a diverse mix of people is a chance for them to become more flexible and adaptable, as well as helping them to improve their ability to work towards common goals.
Most of all it may help our pupils prove to themselves that they can have an impact on the lives of others, not to mention build their own self-esteem and confidence.
The MAD Club identified that they would like to help a local charity and so they have reached out to LOROS – a local charity and hospice providing support to over 2,500 people in Leicester, Leicestershire and Rutland. LOROS provide high quality, compassionate care and support to terminally ill adult patients, their families and carers.
The MAD Club asked LOROS if they would send someone into School to chat to us about the work they do and at the same time came up with the idea of holding a tuck shop, giving all pupils at Grace Dieu a sweetie treat for the cost of £1 and at the same time raising money for this wonderful charity.
The MAD Club has also been into our Nursery to help out with tea much to the delight of everyone there. In the coming half-term they are hoping to visit an old peoples' home.
Inspired by their work, Grace Dieu as a whole, also chose to make a difference to the people of Indonesia who have suffered so badly as a result of the earthquakes and consequent tsunami which hit South East Asia on 28th September.  They responded to CAFOD's Indonesian Tsunami Appeal raising money with an end of half-term Home Clothes Day with each pupil bringing in £2.
In the approach to Harvest Fast Day we gathered goods for those who need our help and these were then distributed to the Carpenters Arms and the Marlene Reid Centre in Coalville. A big thank you to all our parents for their generosity.  Our Harvest Mass provided as well the perfect opportunity to make a difference through our prayers.
The Cygnets too have contributed in their own special way to 'making a difference' to those who are cared for by Rainbows, a children's hospice in Loughborough dedicated to meeting the needs of children and young people in the East Midlands who are affected by life-limiting and life-threatening conditions. How?  Well, they embarked upon a Cygnets' Sponsored Cycle event which ran for the whole of week 5 to ensure that every Cygnet had a chance to participate.
Week 6 of this term also saw the launch of Operation Christmas Shoebox in support of the Samaritans Purse charity. Our Chaplaincy Team led the way with a special assembly in which they shared how the shoebox appeal first came about and what each one of us can do to prepare a shoebox which will transform the life of a child this Christmas.