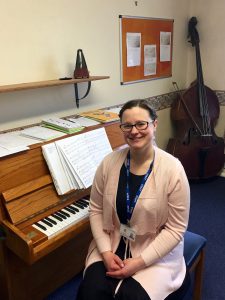 We are delighted to announce that Anna Hill will be Grace Dieu's new Director of Music.
Anna, who has been teaching singing at Grace Dieu for the last year and has championed many recent projects including taking part in Young Voices, joins the School full time as of September 2018 in the role of Director of Music.
"This is an incredibly exciting development for the Creative and Performing Arts at Grace Dieu," says Headmistress Margaret Kewell. "All that we offer, both inside and outside of the classroom, is rooted in our goal to develop the whole person. Aesthetic Development is absolutely key and by appointing a full time Director of Music we will be able to further encourage and develop the musical talents of each and every pupil at Grace Dieu."
Anna studied Music at the University of Nottingham and has a Trinity College London CME qualification specialising in Primary School Music Education. She has been teaching music in a variety of different guises – from individual lessons to running classes as part of the Derbyshire Music Partnership.  She is a Kodály specialist – a child centered, all-inclusive musical education methodology which has a strong, and growing reputation in the UK.
Whilst Singing is her main instrument, she holds five Grade 8s – in Singing and Saxophone at Distinction, along with Piano, Oboe and Recorder.  She has a passion for Musical Theatre, as well as a keen interest in Opera.
"I'm incredibly excited to be able to continue at Grace Dieu in this full-time role and I'm looking forward to working with Ms Tye over the coming months to allow for a smooth transition and to make preparations to embed a Kodály based Curriculum from September.  By fully embedding the Kodály approach the children will not only thrive musically, but because it is a highly interactive, collaborative, and kinaesthetic (movement-led) approach, they will also see a range of other benefits that are highly transferable into all their other daily lessons at Grace Dieu.  This includes improvements in their gross and fine motor skills, as well as concentration.  As pupils are expected to listen, take turns, share creative thought, and not to shun the creative offerings of another, this new approach to music will help pupils to better work with others.  Most vitally, the key overarching benefit is self-efficacy – through their music lessons and by performing (individually and as part of an ensemble) they will gain confidence – which is, of course, vital as they grow and develop."