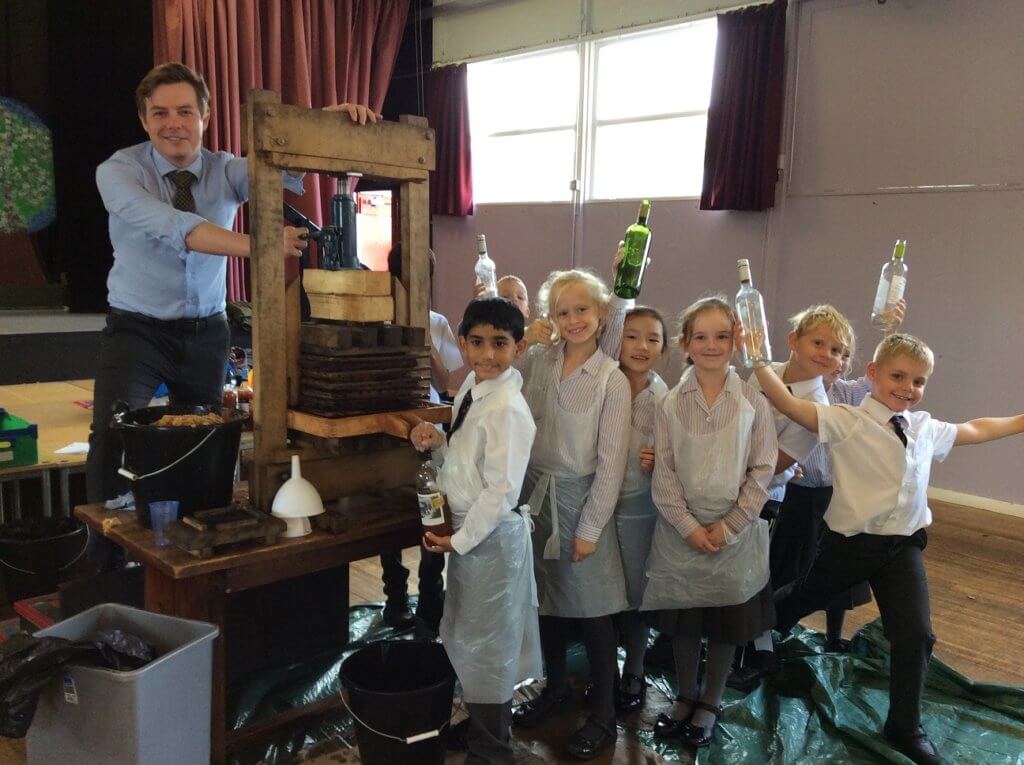 Pupils and staff joined together to take part in Grace Dieu's annual Apple Pressing – two days of hard work resulting in nearly 200 bottles of amazing apple juice!
The whole Grace Dieu Community took part in the process in some way.  This included: washing, scrubbing, chopping and mulching the apples, pressing this mulch into a 'cheese' in a muslin net and then applying pressure to squeeze out the juice before collecting it into sterilised bottles.  All of the pupils designed their own labels, with one being picked from each year group to adorn their bottles.  Parents were encouraged to take part too by bringing in bottles to store the juice in once pasteurised, as well as sharing their crop – to put their own apples to good use too!
"Apple pressing is labour intensive, yet wonderfully fulfilling for everyone involved," says Grace Dieu's Head of Outdoor Learning. "Pupils get to see, first hand, how the fruits of their labour (picking, pressing and pouring) results in a wonderful juice for everyone to enjoy.  It's a great exercise in teamwork and an extremely tasty one at that!"
The pupils who took part all had the chance to sample the juice as it ran off the press, whilst every child at Grace Dieu was able to take their own bottle home to enjoy and share with their family. "Not everyone can drink apple juice from the trees in their School," continues Claire.  "The children really are so incredibly lucky to be able to experience such a 'pure' drink, without it having been transported, or having been sprayed with chemicals or diluted. The apple pressing provides an extremely valuable, and practical, lesson to all of our pupils on how they can, by working together as a community, reduce waste and become more sustainable."
"Grace Dieu encourages all of its pupils to be environmentally aware – through the myriad of Outdoor Learning and John Muir Award activities, as well as the activities undertaken by its Eco School committee," says Headmistress, Margaret Kewell. "It is an intrinsic part of our ethos, to educate the whole child – our apple pressing event is just one, very practical example, of how we do this at Grace Dieu."
The remaining bottles are still available to buy, with all proceeds going to LOROS.