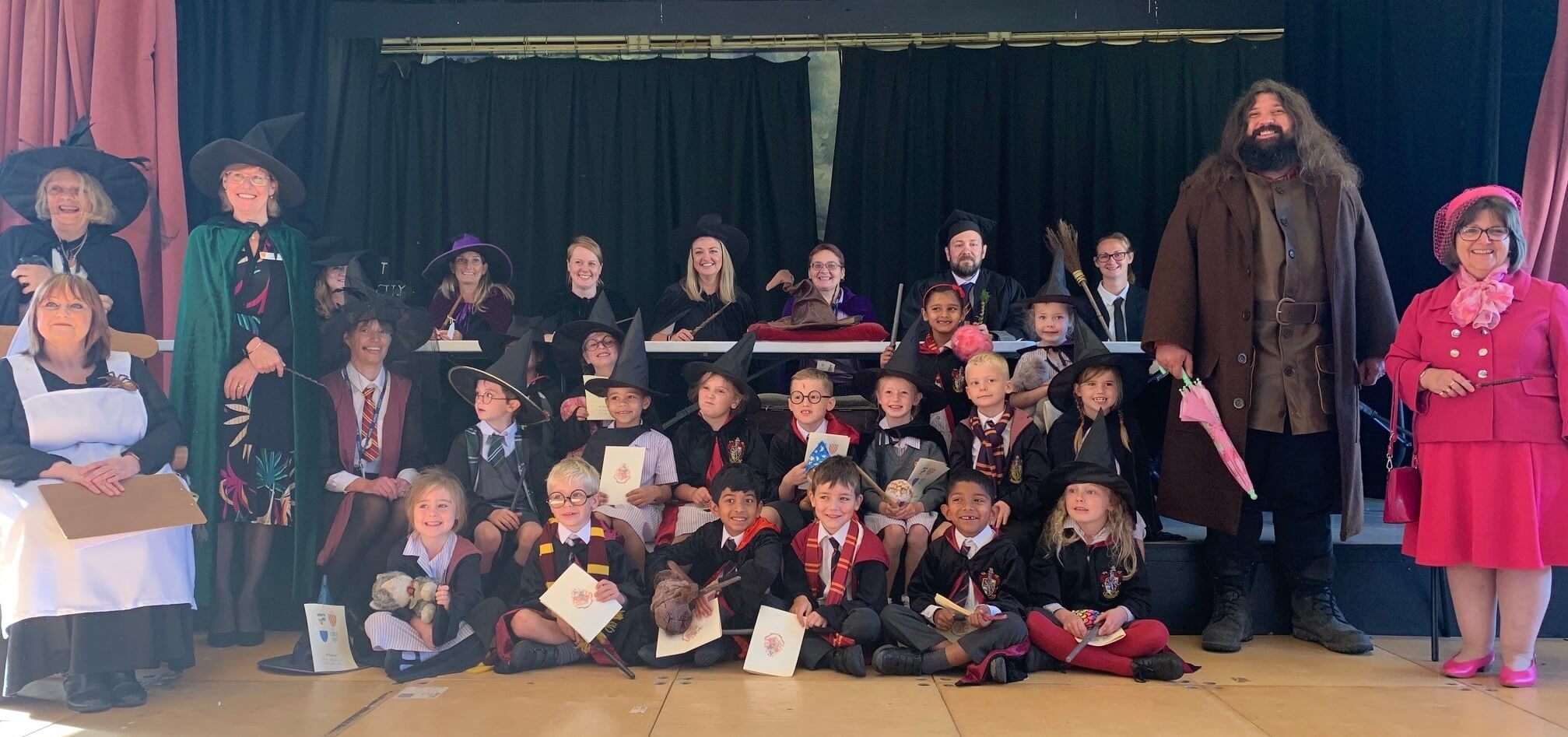 For the fourth year running, pupils at Grace Dieu have enjoyed their House Sorting Ceremony!
In true Harry Potter style, all of our Year 2 pupils took part in an elaborate and truly memorable Sorting Ceremony – where they join one of our four Grace Dieu Houses – Bishops, Gentili, De Lisle, or Verdun. Our Houses are a great source of pride and camaraderie – with pupils competing against each other in competitions in a bid to win the House Cup at the end of each year.
"Harry Potter day really is a highlight of our School calendar for pupils," says Headmistress Margaret Kewell. "They get incredibly excited beforehand and we try to make it as magical as possible for them."
Staff and pupils dressed up in an array of Harry Potter costumes – with our Headmistress turning into Professor McGonagall, the teachers into wand-waving witches, and the Headmistress's PA making an appearance as Dolores Umbridge.  One character certainly stood out as being memorable – as Rubeus Hagrid made a special guest appearance!
All pupils from across the School attended the ceremony – including those in our Cygnets pre-school class.  Year 2 parents were invited too, and some even got dressed up for the occasion – in cloaks!
As all the Year 2 pupils were 'sorted' into their Houses, the rest of the School watched on eagerly.  Indeed, "when the Year 2 were sorted into their houses they received huge claps and cheers from all the other pupils," continues Mrs Kewell. "It's a lovely moment of camaraderie and community – two things that really make Grace Dieu distinct."
The ceremony also included a wonderful rendition of 'Double Trouble', by the Senior Choir – showcasing their magical, musical talents.
It really was a magical day all round – one that will long be remembered by our newest 'House recruits'!