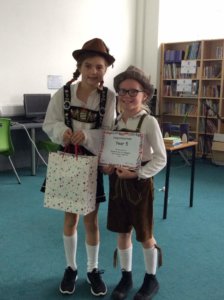 Grace Dieu's new languages teacher has brought languages to life across the school through an exciting European Day of Languages event!
Held annually, this year's event was the School's biggest and best yet – with a wide range of language-themed activities held throughout the week, culminating on the day itself.
"Languages play such an important role in providing the rounded curriculum for which we are well known," says Headmistress, Margaret Kewell, "so we are delighted that our new Languages teacher has brought languages to life across all areas of the School.   Not just this week – but every week at Grace Dieu – Mrs Ling runs a Spanish after school club alongside all of her weekly French lessons for pupils in our pre-reception Cygnets class up to Year 6."
After a week of practising Abba songs in either French or Spanish, pupils took part in their very own Eurovision Song Contest in front of a panel of judges. From the Year 1's winning rendition of 'Dancing Queen' in Spanish, all the way through to Year 6 singing 'Mama Mia' in French – the children loved learning the lyrics, getting to grips with the language and incorporating some dance moves too!
The day itself was packed full of activities, including an assembly from Mrs Ling where she taught the pupils a variety of fun facts about European languages, and the children took part in a 'why should we learn languages?' poster design competition.
Different countries were celebrated, with the pupils (and staff too) dressing up in the colours of a variety of flags – from Greece to Wales – with Year 5 winning for their representation of the German flag.  Chef Dan chose to celebrate some countries too, by serving up a European menu for lunch including Scottish Salmon, Spanish omelette and a delicious Italian cheesecake.
The pupils also took part in an ongoing national project called Languagestones, which saw them collecting and painting stones with a design that includes a word or phrase in a different language.  When complete, the pupils hid the stones in different places around the School building and in the wider community – for others to find. The pupils have certainly relished finding each others' stones and some, with parents' help, have been watching the project unfold and seeing how far the stones can travel, on the Languagestones Facebook group page.