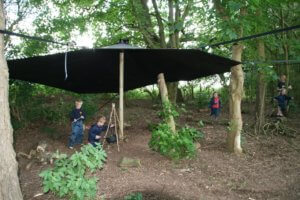 Outdoor Learning goes from strength to strength at Grace Dieu – this academic year has seen many successes and developments, and from September there are even more exciting changes to come!
"Our Outdoor Learning programme or 'alfresco teaching' as some now call it, captures our pupils' curiosity, stimulates their senses and nurtures their well-being," explains Headmistress, Margaret Kewell. "It allows them to take their learning beyond four walls and then enables them to enter back into the classroom, with improved concentration and increased motivation."
All pupils enjoy an Outdoor Learning session each week and their skills and knowledge culminate in Year 6 where, for the second year running, pupils have all achieved their John Muir Award.  This is a highly regarded national environmental award that encourages people to connect with, enjoy, and care for wild places.  Read more about our Year 6's success in receiving their John Muir Awards here. 
Never one to stand still, Grace Dieu continues to build on its successful Outdoor Learning provision – no more so than when our new Cygnet Forest was officially opened by Caroline Scothern from the National Forest at the end of term.  All of our pupils have been able to access and enjoy our Forest but there are now two specially designated areas for Outdoor Learning sessions – one for the older pupils and one for our youngest children – in both our Nursery and Pre-Prep.  Read more about our new Cygnet Forest, with all of its age-appropriate resources and facilities here. 
Another change and development in our Outdoor Learning programme is our new Head of Outdoor Learning, Mr Richard Pickersgill, who, from September, will be bringing a new dimension to our programme with his vast outdoor pursuits experience.  "We want our pupils to grow, stretch and develop as much in their Outdoor Learning sessions as they do in their lessons in class," adds Mrs Kewell.  "For this to happen, we are enhancing our outdoor curriculum to increase in challenge as the pupils themselves get older. Whilst our activities have always been age-specific, Mr Pickersgill is bringing new exciting challenges and adventures to our Outdoor Learning sessions – which I am absolutely confident will further develop our pupils' confidence and capabilities." Read more about our new Head of Outdoor Learning and the approaches he'll be developing from September here.