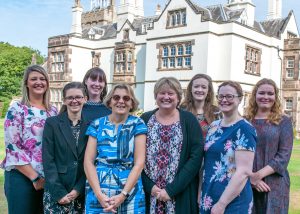 As the Autumn term begins at Grace Dieu we are delighted to welcome a number of new teaching staff to the School. "This is another exciting year for developments at Grace Dieu," says Headmistress Margaret Kewell. "With our new staff we are able to further develop the education on offer at Grace Dieu – they already have ambitious plans which will unfurl over the coming months for the benefit of all of our pupils."
Our new Deputy Head, Mrs Darby, joins the School with a wealth of experience in teaching and in leadership and management.  She joins us from Christ the King Catholic Primary in Leicester, where she was Assistant Head and has also been acting Head of School. To read more about our new Deputy Head, click here. 
Mrs Hill joins Grace Dieu full time as our new Director of Music. Mrs Hill has been teaching singing at Grace Dieu for the last year and will be utilising her wide array of musical talents and expertise to further encourage and develop the musical talents of each and every pupil at Grace Dieu. Read more about her experience and aspirations for Grace Dieu here.
Our new Speech & Drama teacher, Miss Curtis, brings with her a wealth of educational and acting experience which she will be passing on to pupils across all the years at Grace Dieu.  Read more about her professional acting credits and extensive LAMDA experience here.
Whilst she is certainly not new to Grace Dieu, Mrs L Baker is a new teacher to the Year 2 class this year. She returns from her retirement, having 30 years of experience teaching at Grace Dieu. She is a much-loved teacher, who will provide an excellent Maternity cover for the forthcoming academic year.  Mrs L Kanellis joins us as a Year 1 Teacher, also providing Maternity Cover.  She comes with considerable experience having taught at Eltham College Junior School, London.
We also have two new Learning Support teachers Miss K Cockeram and Mrs L Brown – who will be providing additional support in Year 3.
Finally, but by no means last, Miss R McInnes joins us as our second Swans Teacher! Grace Dieu is growing and our new, additional Reception class will be taught be Mrs McInnes, who brings with her over 3 years of experience at Bordesley Green Primary School, Birmingham.