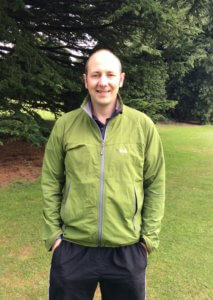 We are absolutely delighted and excited that, from September, our Outdoor Learning provision will be headed-up by Mr Richard Pickersgill.
Known by many at Grace Dieu as a member of our Sports Department, Mr Pickersgill has, in addition to all of his sports coaching skills, a vast amount of outdoor pursuits expertise,   collected over decades of teaching and instructing.
"This is an incredibly exciting time for Outdoor Learning at Grace Dieu," says Headmistress Mrs Kewell.  "Mr Pickersgill's skills and expertise will complement, and further add to, our already strong outdoor learning curriculum that has been shaped wonderfully over the last few years."
Mr Pickersgill has coached in bouldering and rock climbing, orienteering and canoeing.  He is a Mountain Leader, has led over sixty Duke of Edinburgh expeditions, and has trained pupils in navigation and camp craft.  He is looking forward to introducing many new elements to our programme and will be teaching Years 2-6, as well as overseeing all Outdoor Learning at Grace Dieu. He will be supported by Mrs Burley who has specific Forest School training and will be leading the Early Years' Outdoor Learning sessions. They will both be working closely with all of Grace Dieu's class teachers to bring as many aspects of the children's learning to life via our wonderful outdoors.
"We want our pupils to grow, stretch and develop as much in their Outdoor Learning sessions as they do in their lessons in class," adds Mrs Kewell.  "For this to happen, we are enhancing our outdoor curriculum to increase in challenge as the pupils themselves get older. Whilst our activities have always been age-specific, Mr Pickersgill is bringing new exciting challenges and adventures to our Outdoor Learning sessions – which I am absolutely confident will further develop our pupils' confidence and capabilities."