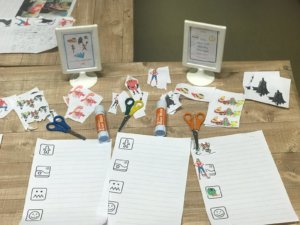 Grace Dieu's Swans (Reception) class is led by an inspirational teacher called Miss Rose McInnes. Over the last year she has transformed the curriculum on offer – bringing a 'Reggio inspired' approach to life at Grace Dieu.
Her approach is inspired by the Reggio Emilia educational philosophy – an increasingly popular approach in Early Years' education, combined with objective led planning as inspired by Early Years' expert, Alistair Bryce-Clegg.  Miss McInnes' focus is on a pupil centered, experiential approach to learning – what's known as 'guided play'.  She encourages children to learn by planning activities and lessons around their interests, asking questions to further their understanding and pro-actively engaging in the activities alongside the pupils – rather than passively observing children learning or 'teaching' them through instructions.
A successful approach to learning…
Some parents who visit Grace Dieu see a very different approach than they themselves experienced as a child!  Children in Swans are free to move around and choose the learning they want to take part in that day.  Their learning is personalised – think of your child having their very own personalised curriculum.  Whilst the end goal for each child is to develop their confidence and pique their interests in a wide range of subjects from Science to Geography, as well as lay the all-important foundations in reading, writing and maths – each child follows their own route.  Meaning that, by the end of the year, children are confident and independent learners ready to move into Year 1 – which sees a continuation of child-focused learning, with more structure introduced to their daily routine.

Carefully balancing formality and free learning:
There is structure in the week for our Swans Reception children, which bookends the free learning approach that takes place for the majority of the time.  For example:
Each and every morning sees the children take part in a structured Phonics session, in conjunction with Year 1 classes – meaning that the children can learn at their own pace and benefit from differentiated learning (those more able can join Year 1). They also have weekly books to take home with them to practise their reading for these sessions.
There are Assemblies to attend and RE sessions in which to take part, as well as weekly PE, Swimming and Outdoor Learning sessions that the children all love!
How are the children stretched & monitored?
Each child in our Swans Reception class is monitored and stretched to develop across all areas of the curriculum. Each week there are four or five different challenges laid out for the children to take part in that specifically relate to writing and maths.  If they complete each and every one of these challenges they are able to wear a special 'rainbow medal' on Friday – a simple but very effective way of encouraging them!
Those children who are exceeding expectations are stretched – they are given more challenging work – for example to be writing in greater depth. With our small class sizes, children are all able to be carefully monitored, stretched and encouraged by Miss McInnes and her teaching assistant.
What does our pupil-centered approach actually look like in the class?
Writing: children quickly develop a love of writing because it is not a chore or a skill to be accomplished.  They each do several pieces of writing every week – as they have been inspired to write about the things that interest them. This might be via writing recipes or even letters to a fairy who lives in the Grace Dieu forest who, everyday asks the children questions and loves getting their responses! All of the children are given a structure to write – objective led writing – where they create and develop a character, setting, problem, and a solution. Once they have written their work, they are also encouraged to act it out at the end of the day – with friends getting nominated to act out different parts!


Spelling: a great way to encourage children to learn spellings is to get them to thread words 'beads' onto a necklace – a fun challenge that also encourages their dexterity! Another fun challenge our Swans took part in this year was to spell out words via letters written on beans (as part of the children's Jack and the Beanstalk theme).


Maths: there aren't any maths work books or sheets – everything is activity based! Children learn arithmetic through engaging activities such as learning how to count via fun activities with paper clips, subtracting is learnt by moving frogs on to different lily pads, and division is learnt by sharing 'food' between monsters!


Inspiring themes: We take a favourite book – such as 'Harry's Endangered Animals' or 'Super Tato' and create a series of activities the children can take part in – from writing to art work – the challenges encourage children to think creatively, be dexterous and to problem solve.  Their 'Harry's Endangered Animals' themed activities saw them modelling animals out of clay, creating pictures and writing booklets.


Creative play: Creativity is encouraged at all times! For example, instead of having a castle for children to play with – they are encouraged to make their own castle, from a wide range of resources. Why limit their imaginations by the 'toys' you provide them – open their minds to think and express themselves creatively – whilst at the same time they are developing dexterity and learning how to successfully build structures!
A 'natural' approach to learning: The activities Miss McInnes plans for her Reception aged children are also very inspired by Scandinavian educational approaches – which complements Grace Dieu's focus on Outdoor Learning.  So there are lots of wood and natural materials used – rather than plastic.
Our Swans Reception class is an exceptional environment that encourages Early Years development across all areas for all pupils –  it offers the all-important foundation of an excellent education. #AllTheRightFoundations #AllGraceDieu.